Traditional Folk & Roots-based Songs & Music

THE BEAR BAND
was formed in 1980 by Huw Jones and John Howes, and included John Jeater on mandolin, Chinch Gryniewicz on guitar and Lynne Gent as caller. The Band quickly gained popularity and has remained a firm favourite with Ceilidh goers across South Wales. In the early years they regularly played a number of Ceilidhs under the name of Ursa Major when they were joined by Kate Hannon on fiddle, Paul Hannon on keyboard and saxophone and Laurence Fry on flute.

Chinch was only to be with the Band for a short while. After a couple of years John Jeater left and was replaced by Ian Stevenson on mandolin. Ian had previously played for many years with the Irish band, Quilty. About this time Paul Fjaelberg joined the Band on drums, and after a number of years Lynne Gent left the Band and Jon Mills became caller.

The Band suffered a set back when Ian left to live in France and a number of musicians guested for a while until a permanent replacement could be found. John took up the bouzouki and joined Huw as a lead musician. Dick Ellis came in on guitar with Lyndon Whife replacing Paul on drums. During this period the Band worked with a number of callers until a replacement was found in Tim Cook. He became a firm favourite with the dancers until his sad and untimely death in 2004. In 2006, after a short rest, the Band reformed with Steve Passmore on bass, Lyndon Whife on drums and percussion with Nigel Haworth as their Caller.

In 2014, THE BEAR BAND all but officially retired from playing mainstream Ceilidhs, only reforming to play some very 'Special Events'.
Other Musicians who have occasionally worked with the Band


Phil Burkin/spoons;
Andy 'Wal' Coughlan/string bass; Sam Christie/drums;
Peter Davis/whistles and bagpipes; Martin Ellis/guitar;
Alistair Gillies/saxophone;
Andy Jones/guitar;
Alison Haworth/spoons & bones; Mike James/melodeon;
Aneuirin Jones/fiddle;
Pete Kiddle/concertina;
Rupert Lewis/fiddle;
Catherine Milland/fiddle;
Annie Mills/saxophone;
Marco Mout/string bass;
Robert Musgrove/bass;
Adrian Peregrine/guitar;
Larry Richmond/fiddle;
Geraint Roberts/whistle & bagpipes;
Rees Wesson/melodeon;
John 'Pugwash' Wethers/drums;
Ash White/drums;
Tony Williams/bass.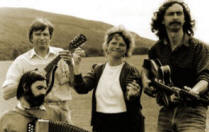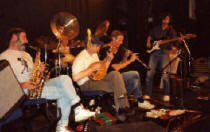 Nigel, Huw, Steve, John and Lyndon
Huw, Paul, Ian, Peter and John
Huw, Ian, Lynne and John